Free "Lightning & USB-C Adapters" for preorder before 22 April only
Sale!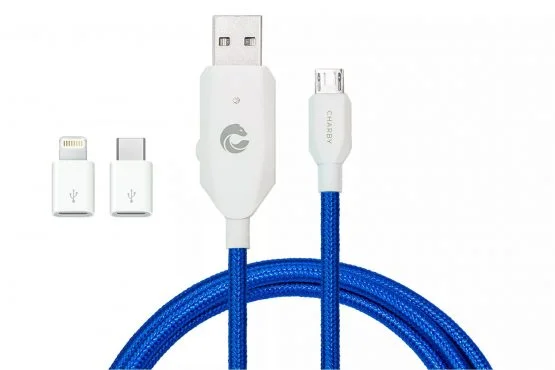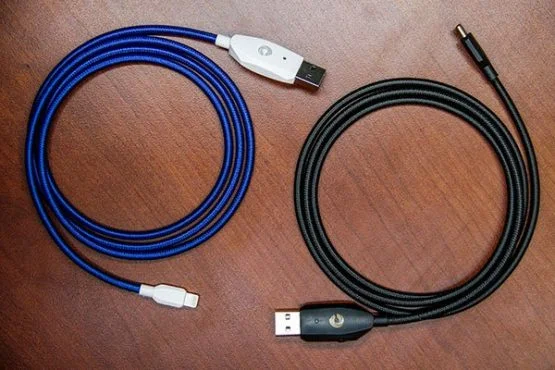 Charby Sense Auto Disconnect Cable (1.2m)
[Reversible] USB-A to Lightning for iPhones/iPad, or Type-C or Micro USB for Android devices
USB-C & Lightning (Apple) – out of stock
Protect battery life
(cut off charging entirely after 100%)
Time-saving fast charge
Super durable Aramid fiber
Thoughtful LED system
Optimal 4ft length
Emergency Charge Booster
(2x charging speed from PC's USB port)
Reversible USB-A Connector
*Lightning & USB-C Adapters may come in either White or Black color depending on availability.
*When fully charged, charging will auto disconnect in 30 – 60 minutes based on battery capacity and ongoing usage.
*3in1 (Lightning, Micro USB, Type-C) Magnetic Adapter is a set of accessories that works with Micro USB Charby Sense.
*Magnetic tips may not fit if the phone case's USB port opening is smaller than 9mm (0.35inch) diameter.
*Magnetic tip may trigger auto-disconnect function if dislodged from adapter. To resume charging, simply press Charby Sense's button once.
Protects Battery Life - Effortlessly
Busy? Tired? Just plug in and forget. Our cable will auto disconnect all power to your device when the battery is full.

Fast in Every Situation
Fast charging up to 18W. Support Apple 2.4A, QC3.0, & Samsung AFC. LED warns you of super slow charger. And when there's no outlet, you get 2x charging speed from a laptop's USB port.

Super Durable & Easy to Keep
High-density 1200D+ Aramid Fiber reinforces the entire body. And Premium Nylon-braided. Doesn't fray, doesn't break, never tangles. It's tidy in your bag & looks good on your desk.

LED's Got You Covered
2-sided LED. You'll immediately know when it's not charging or charging too slow. Never wakes up to a dying phone, and never spent hours charging with a bad charger. If it's WHITE, your phone is not plugged in properly. Pulsing ORANGE, you're using a slow charger. ORANGE, charging normally and GREEN, charging is complete.

Smooth Day Every Day
Enjoy a complete, hassle-free day. From unpacking the tidily coiled cable from your bag, plugging in on first try, to fast charging and not having to unplug when battery's full. Every feature is made for your peace of mind.
Materials: DuPont™ Kevlar® fiber & Nylon braid
Length: 1.2m | 4ft
Output: 2.4A, 18W Max
Fast Charging Protocols: Qualcomm® Quick Charge (QC3.0/2.0), Samsung Adaptive Fast Charge (AFC), Huawei Fast Charger Protocol (FCP), Mediatek Pump Express (PE)
What's in the box
1x Charby Sense (Lightning / MicroUSB / Type-C) | 1x cable strap | 1x warranty card | 1x user manual | 1x Magnetic Adapter Set OR 1x USB-C & Lightning Adapter (Optional)
USB-C Phones:
Google / Samsung / Xiaomi / Redmi / Pocophone / One Plus / Oppo / Vivo / Realme / ROG Phone / Moto / Huawei / Sony / HTC / LG / Nokia
USB-C Tablets:
iPad Pro 12.9" 5nd 4th 3rd / 11" 3rd 2nd 1st
iPad Air 5th 4th
iPad Mini 6th
Samsung Galaxy Tab, Xiaomi Mi Pad
USB-C Others:
Nintendo Switch / Lite
USB-C Earbuds
Lightning Phones:
Lightning Tablets:
iPad iPad / Pro / Air / Mini
except: iPad Pro 12.9" 5th 4th 3rd / 11" 3rd 2nd 1st/ iPad Air 5th 4th / iPad Mini 6th
Lightning Others:
iPod touch 7th / 6th / 5th gen
iPod nano 7th gen
Airpods / Max / Pro
Magic Trackpad / Keyboard / Mouse
Micro USB Phones:
Samsung Galaxy S7 Edge / S7 / S6 Edge / S6 / S5 / S4 / S3 / Note 5 / Note 4 / Note 3 / Tab 4 / Tab 3 / Tab A / Tab E / Tab S2 / Tab S / Tab Pro
Google Nexus 10 / Nexus 9 / Nexus 7
Huawei Mate SE / P8 / P8 Lite / Honor 7X / 6X
HTC One M8 / M9 / E8 / One A9 / One Remix / One S / V / X / X+ / Desire 626 / 626S
LG G4 / G3 / G3 Stylus / G2 / V10 / Optimus / Flex 2 / K40 / K30 / Tribute Empire
Motorola Moto G6 Play / G5S Plus / G5S / G5 Plus / G4 / G3 / Moto Turbo / Moto X / G / E
NOKIA Lumia Series / NOKIA X Series / BlackBerry Z10 / Z3 / Z10 / DTEK 50 / Aurora / Leap
Micro USB Others:
Earbuds / headphones
Amazon Kindle / Fire Tablet / Fire TV Stick / Fire HD 10 / HD 8 / HDX 8.9" / Fire 7 Kids Edition / Kindle Voyage / Kindle Paperwhite / Kindle Oasis / Echo Dot (2nd Gen) / Echo Auto / Tap / eReader
MP3 player / Portable camera / handheld game controller (PS4, DualShock 4, Xbox One) / PS Vita / E-reader / Nintendo DS-reader / Printer / Bluetooth speaker / Wireless keyboard / Portable charger / GPS device / Windows notebook
Shipping
We process your order within 24 hours. You'll receive tracking numbers by email in 1 – 2 business days. Shipping cost calculated at checkout.
Warranty
This product is covered under 1 Year Warranty. Reach out to support@charbycharge.com to get help or 1-to-1 replacement.
Protect Your Battery - all by itself
After a long day, forget about battery care. Just plug in and relax. Charby Sense will completely cut off charging for you. And your phone will be perfectly ready for the next big day — without harming battery life every night.
Auto Cutoff at Full Battery
Frequently breaking cables is a hair-pulling experience. And we can't afford to lose anymore hair. So we made sure to build Charby Sense with incredibly robust materials. You can carry it, use it everywhere every day – and never worry that one day it will break apart.
1200D+ Aramid Fiber Reinforced
Tangle-Free Nylon-braided
Hard-tested in Lab
Its tensile strength is pushed to the extreme in the lab. It's proven to withstand over a whopping 15,000 bends. This cable is constructed with braided nylon and DuPont™ Kevlar® fibre.
DuPont™ and Kevlar® are trademarks or registered trademarks of E.I. du Pont de Nemours and Company.
Faster Charging in Every Situation
It charges fast normally. Prevents you from using a super slow charger. And when outlet's not available, a single button 2x your charging speed from the typically-slow laptop USB port.
Slow Charging Alert
If the LED blinks, you'll know it's very slow.
The "Deluxe" Convenience Package
Its length is just "right". Helps you reach places that original cables couldn't. But never like a python has just invaded your space. Has an All-Telling LED design. And lastly, a reversible USB that connects EVERY TIME.
Thoughtful LEDs
5 different modes tell you everything. No more facepalm moments.