Finding the right replacement charger is important. Because using another laptop's charger may permanently damage your laptop. (Especially if the voltage is different.)
To find the right charger for your laptop, all you need is to follow these 3 simple steps:
How to find your laptop charger's model number
You can find the laptop charger's model among your AC adapter's specs.
For example, here's a picture of a Dell's AC adapter.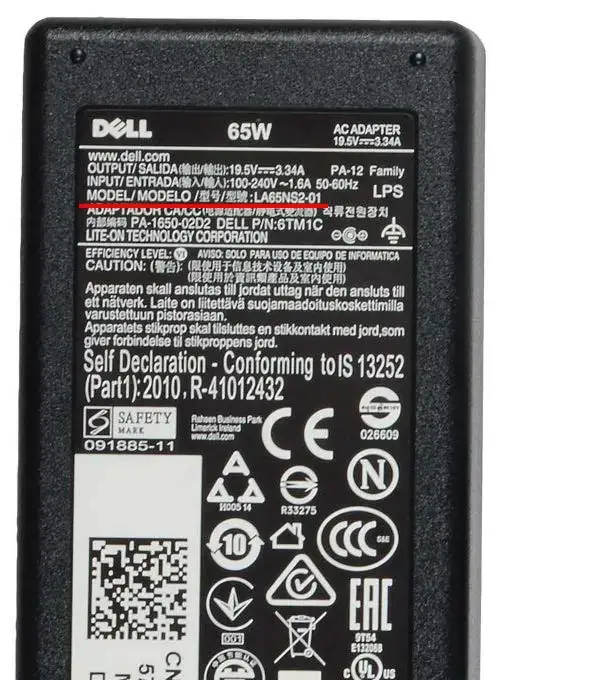 Look for the word "Model". The alphabets and numbers after it is the model number. For the example above, the charger's model is "LA65NS2-01"
Next, just Google the model. And the page would be filled with links to product listings from different marketplaces. 
You can see your laptop chargers from Amazon and e-bay showing up in the search result below:
Click into one of them, and you will be able to see all the details of the replacement laptop charger.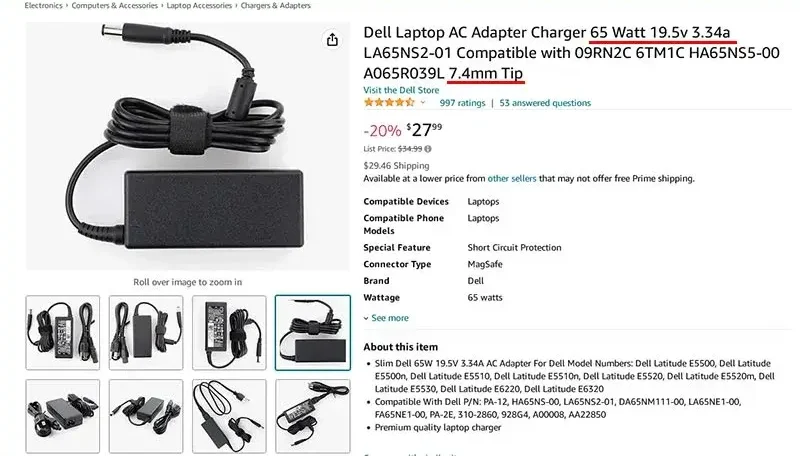 But of all the info, these are the two you need to verify:
Pin Type & Diameter (In this example, it's 7.4mm)
Output (In this example, it's 19.5V, 3.34A, 65W)
Here's why:
How to find your laptop charger's pin size & output
Finding a replacement charger just by using a charger model alone is RISKY.
Because sometimes, the same model has a few different pin diameters or outputs.
If the pin type or size is wrong, it'll never fit into your laptop's pin socket to charge it.
If the output voltage is wrong, you'll risk permanently damaging your laptop's components.
So to really confirm that the replacement you're getting is the right laptop charger, its pin type, diameter and output must match with your original laptop charger's.
To not overcomplicate things, we excluded Microsoft Surface & MacBook from this guide. Their connectors are unique and should be easy to identify.
So that leaves us with only two categories of pin: slim tip & round tip.
And here are some of the most common pin connectors out there: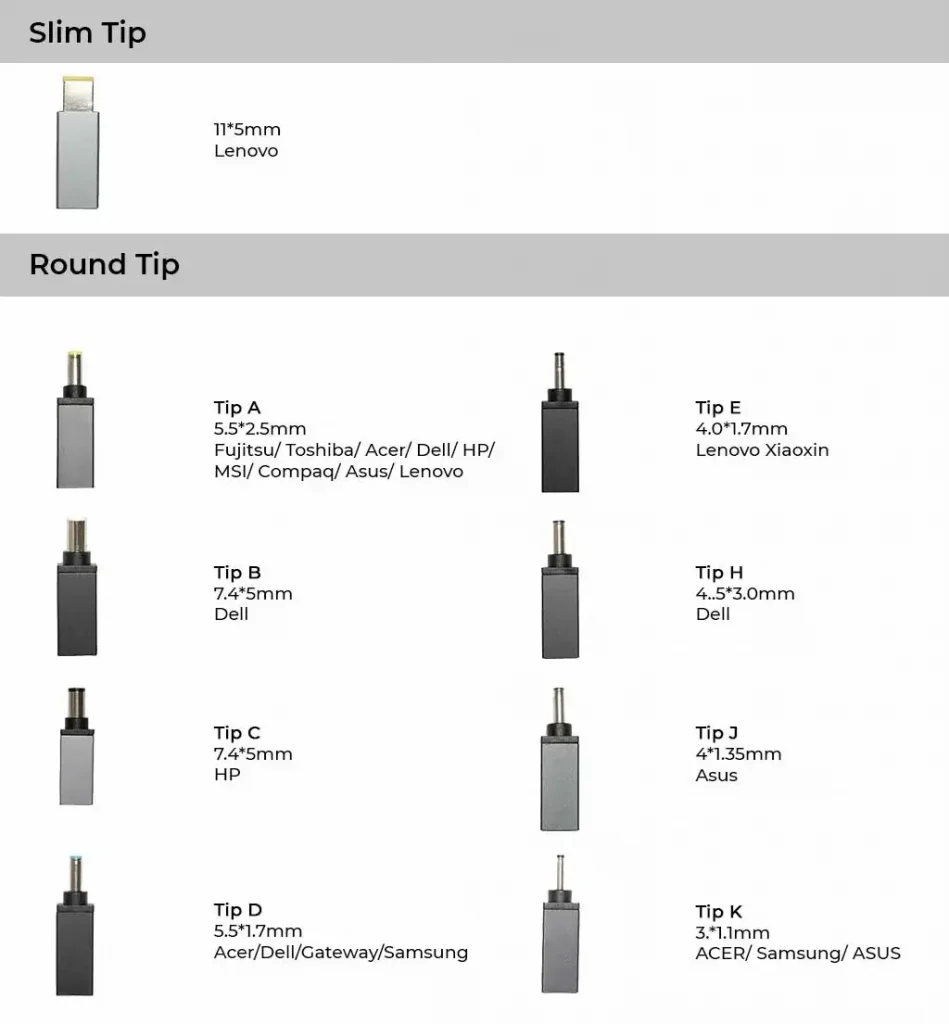 If you have a Lenovo laptop, chances are you're using a slim tip pin, which usually only has 1 size. So the only thing you need to get right is the charger's output. (Skip to the section here)
If your laptop uses a round tip pin, you'll need to measure the original charger's outer and inner diameter.
Pin's outer and inner diameter
Most laptop charger's listings will include the laptop connector sizes in the product description or specification table. 
It will be listed in outer diameter x inner diameter format. For example: 4.5*3.0mm or sometimes 4530.
Now, you need to measure your original laptop pin's outer and inner diameters, and compare it with the replacement laptop charger's diameters.
And they both have to be exactly the same, or it won't fit at all.
Here's how to measure both outer and inner diameter. You can use either a ruler or measurement tape.
Laptop charger's output (Voltage, Ampere, Wattage)
To get the output, just look at your AC adapter for "Output".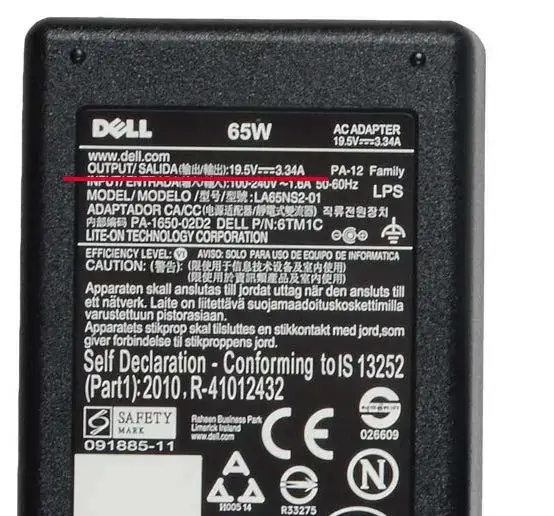 For example, the output for the laptop charger above is 19.5V x 3.33A. And the formula is Wattage = Voltage x Ampere, which means the charger's output is:
Voltage: 19.5V
Ampere: 3.33A
Wattage: 65W (rounded up from 64.9)
Just for the sake of getting a replacement, you'll want your output specs to be exactly the same for your original and replacement laptop charger.
But if you must know, only the output voltage needs to be the same (or not more than 1V difference from your original laptop charger).
For Ampere and Wattage, they CANNOT be lower. But you can use chargers with higher Ampere and Wattage. (Explained in the FAQ section below.)
In summary:
Look at your original AC adapter. Find its "Model" so you can look for replacements on Google.
Check your original laptop charger's pin diameters and output, and compare them with specs from online marketplaces. Make sure they are the same.
Now you know how to find the right laptop charger to replace the old one, it's time to pick the best one to fulfill your needs.
Choosing your laptop charger's replacement
You'll have two options: getting the OEM/3rd party version of your laptop charger OR a universal charger.
Getting the OEM or 3rd Party Laptop Charger
To get a 3rd party laptop charger, just click through any of the search results (continue from the steps above) that lead to online marketplaces (Amazon, e-bay, etc), and order one. And it's all done!
As for a replacement from the original manufacturer (OEM), it might be hard to source or even expensive.
There are two types of OEM laptop chargers.
AC adapters that are manufactured by 3rd party for the laptop brand. (Common ones are LiteON, ACBEL, and Delta.)
AC adapters that are manufactured by the laptop brand itself. (Usually the case for Samsung, Lenovo, and HP)
To start looking for one, first look at the branded logo on your original AC adapter. In the example below, it's LiteON. 

Scenario 1: OEM laptop charger is manufactured by a 3rd party
Your best bet is to Google "OEM brand name laptop charger model" to look for any supplier. Using the example above, it'd be "liteon pa-1900-34". 
But this method is not foolproof. You might end up getting a fake OEM laptop charger, as the genuine and fake version can be very hard to tell apart. 
A fake version might be missing a few safety features, which may cause permanent damage to your laptop.
Alternatively, you can also source a replacement charger from a computer or electronics store.
Just bring your laptop and original laptop charger along. And it'll be easier to identify the right charger, plus they can test the new charger on the spot.
Scenario 2: The laptop brand manufactures its own laptop charger
In this case, head straight to the laptop brand's website and enter the laptop charger model into the search bar (if any). 
Or just surf through the AC adapter's listing and look for the charger by its model number.
Using Lenovo's website as an example:
That said, if you're tired of carrying around a heavy AC adapter, or a bag stuffed with different chargers for different devices … you might want a universal charger.
Getting a universal charger
Universal chargers can charge a wide range of devices: from Bluetooth accessories, smartphones, to tablets, and laptops.
And size-wise, they're about as big (or small) as a phone charger.
Here's why universal chargers work:
USB-C has Power Delivery (PD), which can "communicate" with your devices, including laptops, and supply only the amount of voltages they need.
You can use charger with higher wattage and ampere. Because your device only draws what it needs (unlike voltage).
Most universal chargers come with both USB-C port for high power devices and USB-A port for low power devices.
You can get adapters that convert USB-C connector to laptop pin connector that fits in your laptop.
So for example, if you have a 65W USB-C charger, you can charge every device that has a power requirement equal to or lower than 65W power: earbuds, smartphones, tablets, cameras, and a wide range of laptops.
Items you need to use universal charger with laptop:
Universal USB-C charger (with equal or higher power rating)
USB-C cable (with equal or higher power rating)
USB-C to Laptop Pin Adapter (pick one that matches your original charger's pin type and diameters)
What should I do if my laptop charger is missing?
If your laptop charger has gone missing, you can still find the correct replacement by identifying your laptop's model.
To clarify, you need the specific model name, like "Lenovo Yoga 500-14ACL". Not the range like "Lenovo Yoga 500". 
Because different models in a range may use laptop chargers with different voltage or wattage.
Here's how to find laptop model:
A. Look at your laptop's underside
Usually, you'll be able to find it under your laptop. If the texts on the underside has been blurred or rubbed off, you can then …
B. Power on your laptop & find it in System Information
For Windows users:
While on Desktop, press ⊞+Q or click on the Search Bar
Type "System Information"
Look for "System Model". For example "81JS"
With your system model, you can easily find your laptop's model by just looking it up on Google.
Here's an example:
Then, you'll only need to Google for the laptop charger for your specific model. For example "ThinkPad P16 Gen 1 AC adapter" or "81js laptop charger".
Both search queries will pull out laptop chargers from online marketplaces, just like in Step 1.
Can you use a different or higher wattage charger for laptop?
Yes. BUT with the following conditions:
You CANNOT use a charger with a higher or lower voltage. More specifically, the difference cannot exceed 1V, whether it's higher or lower. Or else, your laptop may overheat and shut down; or worse, it damages your laptop's battery and circuitry.
For example, your original laptop charger has a voltage rating of 20V. You still can use a charger that supplies between 19V – 21V.
However, you can use a charger with higher amperage or wattage. (But never lower.) Here's why:
Unlike voltage, the laptop will only draw the amount of current (A) and power (W) it needs.
The amount drawn depends on the running application(s); and the original charger's wattage rating is the maximum power the laptop will ever draw as calculated by the manufacturer.
If you use a lower ampere charger, your laptop may not charge at all or extremely slowly. Also, there's a risk of damaging your laptop or charger too.